Puncture-Resistant Footwear: Arch Nemesis of the Rusty Nail
Workplace accidents are like backyard accidents: They're no fun and are completely avoidable.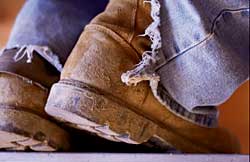 PUNCTURE resistance has become the latest darling in safety footwear features for many manufacturers. Is it really a necessary component, or is it just an extra feature that offers little to no real value?
Most puncture-resistant products can be labeled as such because of a metal plate that is embedded into the outsole during the manufacturing process. Many customers swear by the steel plate because they believe it has stopped more than one rusty nail from puncturing their feet. Others who work around metal detectors can testify that embedded steel plates in their footwear can make for an awfully long workday (especially when the wearer has to remove the shoes each time the alarm sounds). Years ago, a customer told me that wearing footwear with steel plates reminded him of wearing ski boots: They were stiff, heavy clodhoppers that may have protected his soles but killed his lower back in the process.
One compromise is to use a state-of-the-art composite plate instead of steel plates. Some brands have had great success in creating safety features that replace steel protection with composite blends. These extremely lightweight and flexible products become just as effective as their steel-loaded cousins, and many products that are fully certified by ASTM as puncture resistant don't have any steel at all. It's impossible to make steel lighter or more flexible.
Study of Chicago Workers' Puncture Injuries
A recent clinical study of foot puncture wounds in Chicago by the American Academy of Orthopaedic Surgeons showed that puncture wounds to the foot were "deceptively mild." And unlike other workplace injuries, workers too often attempted to care for the injuries themselves and became incapacitated for weeks as infection set in.1
In the Chicago AAOS study, 74 percent of all the puncture injuries were suffered by construction workers (average age: 24.5 years old). Does this sound like anyone you know at your job site?